Our Projects
SEED Engineers have completed a wide range of building projects for various sectors. Please browse through our portfolio to see the work we did, the challenges we faced, and the solutions we provided to meet our client's requirements.
If you are looking for sustainable and eco-friendly design solutions for your next project, give us a call and one of our team members would be happy to discuss your needs.
Auburn Ambulance Station Fitout
The heritage building of the Auburn Ambulance Station is being trasnformed into a state of the art pub and restaurant. The work for the fitout involved designing energy-efficient and cost-effective mechanical services including VRF air conditioning system, energy-recovery air conditioning system, and kitchen ventilation system. This involved CFD odour modelling to ensure that occupants of adjacent apartment building would experience no odour nuisance outside their balconies. Veritech grease filters and COANDA hoods were used to ensure that no grease or odour (below compliance) is exhausted into the local atmosphere.
READ MORE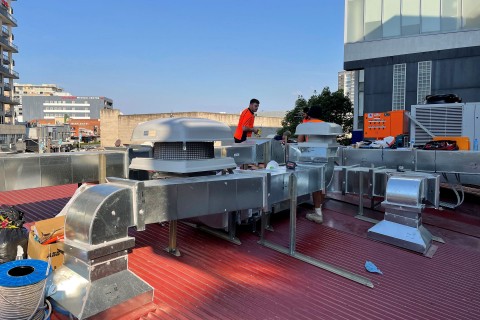 Nando's – Robina
SEED believes that the optimisation of a restaurant environment should include an evaluation of both the experiential and operational functions. With refurbishment and renovations, we inspected the site for potential challenges, both in design and constructibility, to minimise future work changes and delays.READ MORE