Green Building Day Brisbane (GBCA) 2019   18th June 2019 – Aurecon Building, 25 King St
Brisbane's Green Building Day provided by the Green Building Council of Australia kicked off with a welcome by Jorge Chapa (Head of Market Transformation) and Davina Rooney, the new CEO of the GBCA. Davina has only very recently taken this position after Romilly Madew stepped down after 12 years at the helm to move into her new position as CEO of Infrastructure Australia.  It was a great opportunity to meet the new CEO and hear about some of her plans for the future of Greenstar.
The Keynote Address given by Professor Paul Burton of Griffith University was titled 'Scaling up: can cities grow green?'.  This talk explored many of the areas that the Cities Research Centre (whom Paul is the Director of) have highlighted as essential to scaling up cities for sustainability.  The essential conclusions to this being that political commitment is the main driver, along with sustainable design being reconfigured as a core process in the building industry – not a fringe preoccupation.
A panel discussion followed between Jorge Chapa, Chris Wade (Director at the Clean Energy Finance Corporation) and David Clark (Partner at Cundall) concerning the current drivers leading the transition to net zero.  Chris Wade mentioned the benefits of Greenstar as a strategic tool for net zero in operational plans as investors increasingly look to net zero carbon plans with their stake holdings.  David Clark reiterated the need for legislative change per the keynote address but also highlighted the individual efforts required to support this shift.  Specifically highlighting Cundell's approach by becoming a 'One Planet' Company, joining the 'Net Zero Carbon Commitment' and adopting the Living Building Challenge in their framework for design.  Essentially how they are creating a culture within their company to meet net zero by 2030!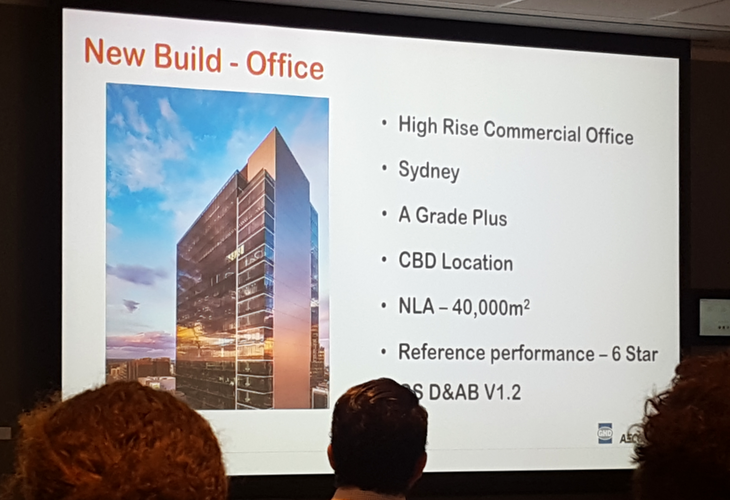 An exploration of how the shift from NCC 2016 to 2019 and its implications for Greenstar followed with a Carbon Positive Case Study by Ian Dixon (Technical Director, GHD) and Tim Dunn (Principal Engineer – Building Sustainability, AECOM).  Two new build offices, a refurbished office and a retail centre extension were the basis for this case study.  Main aims of the study included the maximising of energy efficiency whilst avoiding fossil fuels, use of 100% renewable energy and offsetting any remaining carbon emissions. Key outcomes included the acknowledgement that going carbon neutral (with assistance from Greenpower and offsets) did indeed create an efficient building that was achievable using existing strategies and technologies.  And that only minor capital expenditure was required to lift these buildings to meet the targets.
Following on from morning tea, Jorge Chapa unveiled the GBCA's 'Future Focus' agenda to upgrade Greenstar in its many forms.  This began with a nod to the WorldGBC's commitment to net zero by 2030 through the 'Global Net Zero Carbon Buildings Commitment' (https://www.worldgbc.org/thecommitment) via the 'Advancing Net Zero Report' which was released two weeks ago.
With reference to this, the GBCA is firstly upgrading its Design & As Built + Interiors tools to Version 1.3 as an interim measure to bring Greenstar in alignment with the new 2019 National Construction Code.  These are intended to be rolled out in July 2019.
Further to this, a major shift will occur in 2020 with a raft of changes to all the current Green Star rating tools.  Particularly, the improved version of the Design & As Built tool will see the possible move towards a net zero target for a 6 Star rating, a move away from gas, new points and category systems which combine elements of human sustainability as well as environmental.
The Green Star Communities rating tool was also mentioned, with changes being cited as a response to feedback that the outcomes of the current tool are not always reaching the customer in communicating the benefits of the design approach.  New categories are also included in the framework and it is due for roll-out at the end of 2020.
Afternoon sessions included Karren Greaves of AECOM providing an overview of their sustainable design response at the Yarrabilba site with Australia's first affordable sustainable display home.  Dr Iain C. Jennings (1circle), Robert Saunders (Calibre Group) and Mark Langdon (Alinta Energy Geothermal explained the process and outcomes of retrofitting an educational facility with geothermal energy solutions in Brisbane via their positive experience of working with Catholic Education and Mt Maria College.  And finally, Terry McCoy from Woolworths spoke of the commitment that his company has made to fitting out every single store in Australia to meet Green Star and a case study of their ongoing commitment to sustainability via the new Heidelberg complex.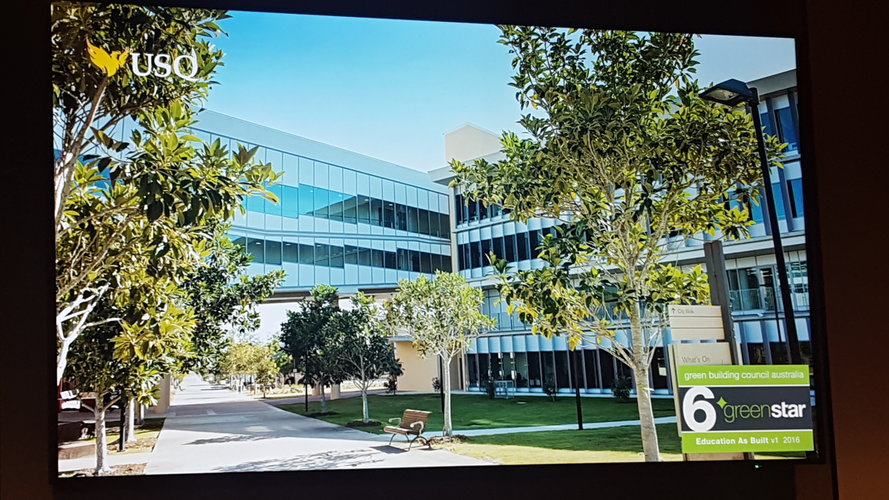 Two streams were available for the afternoon sessions with the alternatives being either 'Social Infrastructure in Focus' or 'Increasing Sustainability through Innovation'.  Having already heard many of the speakers from the latter session, SEED Staff chose to listen in to how the Department of Housing and Public Works (QLD), via Axl Driml, is using it's T3 Initiative and City Smart to resolve the 'split incentive'.  Following this were case studies around the successful use of Green Star in a variety of situations with a focus on the social aspects of the projects including Sunshine Coast University Hospital (Jeremy Mansfield, Lendlease), USQ Springfield Education Gateway (Alicia Logan, USQ) and the Global Change Institute building at the University of Queensland's St Lucia Campus (Ron Hohenhaus, UQ Communications).  The session was wrapped up with a networking event which followed.
Key takeaways from the event were the solidification of 2030 as a target in the construction market towards net zero buildings.  Also, the burgeoning need for health, social and cultural inclusion within the design framework moving forward.